Topping Out Ceremony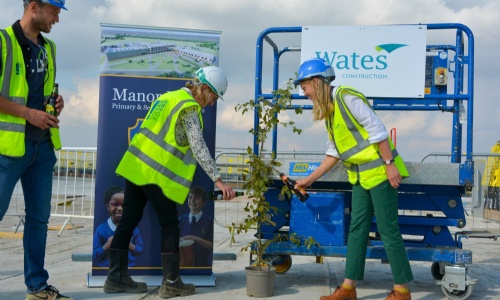 To celebrate the Manor Drive Academies build reaching it's highest point, Wates (the building contractors) held a 'Topping Out Ceremony' on the roof. Wates were joined on the roof by the Manor Drive team, local councillors, the CEO of the Four Cs Academy Trust, representatives from Peterborough City Council and the Department of Education.
The practice of 'topping out' can be traced to the ancient Scandinavian religious rite of placing a tree atop a new building to appease the tree-dwelling spirits displaced in its construction. A tree or leafy branch is placed on the topmost wood or iron beam and a toast is made. At Manor Drive Academies, a hornbeam tree was used, and beer was poured over the tree by the Headteachers - Mrs J Sludds (Secondary) and Mrs R McCloskey (Primary) to celebrate reaching this significant building milestone.
Also joining us at the ceremony was Luke Steele (pictured) Former Manchester United and Barnsley professional footballer, who gave a speech to welcome the new school into his home town of Peterborough.